| | |
| --- | --- |
| Time required: | 10 min |
| You need: | A Google account |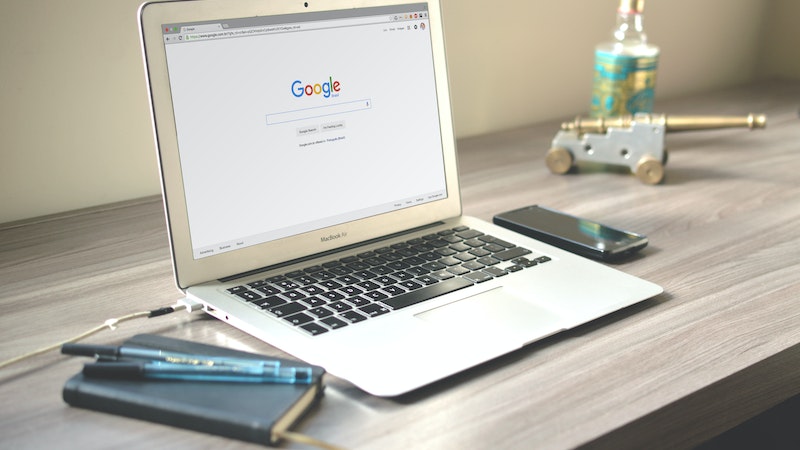 In this post you will learn how to set up a Google search campaign with conversion tracking. At the end of the process you will be able to advertise your vacation rental on Google and get your own direct bookings. You will also learn how to track your results and optimize your ads and keywords to improve performance. If you don't have any experience with advertising on Google, don't worry. It is fairly easy to do, just follow the steps below.
With Google Ads you can create ads to be displayed when someone searches Google for the type of accommodation you are providing. This way, Google shows your vacation rental ad to potential guests searching for exactly what you have to offer. The best part is, you only pay when the searcher clicks your ad and visits your website. This is called pay-per-click (PPC) advertising and, when done correctly, can be a very profitable marketing tool. The chances of securing a new booking are very good. For every 10 people that click on your ad, it is not uncommon for 2 of them to actually make a booking. That is advertising money well spent!
In order to set up a search campaign in Google Ads you will need a vacation rental website. This is where you send the people who click on your ads. If you don't have one yet, you can easily get one. Just go to bnbholiday.com and create a free vacation rental website. It offers a simple to use and beautiful interface, and takes less than 15 minutes to set up. You can watch the video below to learn how to set up your own:
The way that Google Search Campaigns work is quite simple:
Choose the keywords that you want to trigger your ad, for example "cottage Camber" and "beachfront cottage near Camber".
Write one or more ads
Define your audience i.e. the people you want to show your ads to, for example people living in the UK.
Define what makes a conversion for you and set up conversion tracking. A good conversion for a vacation rental can be "when a visitor sends a booking request" or "when a visitor fills out a contact form".
Give your campaign a daily budget and enable it to run. The campaign can then start displaying your ads to potential guests.
You can now lean back and let Google do its magic. Once the conversions (the bookings) start ticking in, it's time to review the five steps again and optimize your audience, keywords, ad copy and budget in order to maximize your profit.
Below, you will find a walk-through of the steps necessary to set up and optimize your search campaign in Google Ads:
1. Keywords
When choosing your keywords, think of what a potential guest might search for in order to find your accommodation. What is special or unique about your vacation rental? Where is it located? What sights are nearby?
A good tool to help you out with the keyword research is the Google Keyword Planner. It will provide you with estimates of search volumes and click prices, as well as suggest new relevant keywords based on the keywords you already have and the content of your website. Google also offers a pretty good list of best practices for keyword research.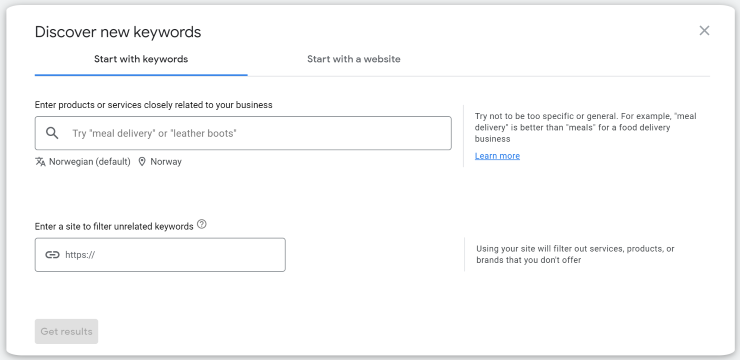 Spend some time and do this step properly. Choosing the right keywords is the most important step to the success of your campaign. The trick is to choose keywords with high purchase intent, and with enough search volume and low enough cost per click to make them profitable for you. You have to look for keywords that describe your offer well, that get enough monthly searches, and that don't have too much competition.
The keywords in Google Ads are organized in ad groups. If you only offer one type of accommodation you will only need one of these. If you offer several different types of accommodation it's a good idea to separate your keywords and ads based on the type of accommodation they are describing. In this case it is a good idea to set up a separate ad group for each accommodation type.
Set up a Google Ads Campaign
If you don't already have a Google Ads account go to Google Ads and create one.
2. Get Started with Google Ads
To be able to set up Google Ads, you are required to have a Google account. If you use Google services like Gmail or YouTube, you already have one. If you don't have one yet it is easy to set up. With your Google account in place, you can get started with setting up a Google Ads account. Just click the 'Start now' button.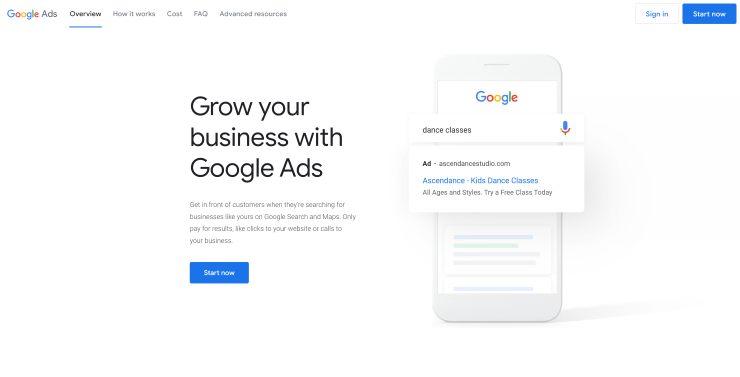 3. Switch to Expert Mode
The first page that comes up will ask you what your advertising goal is, in order to guide you through a simplified campaign setup. To be able to optimize for conversions, you need to add conversion tracking, which the simple setup does not offer. Choose 'Switch to Expert Mode'.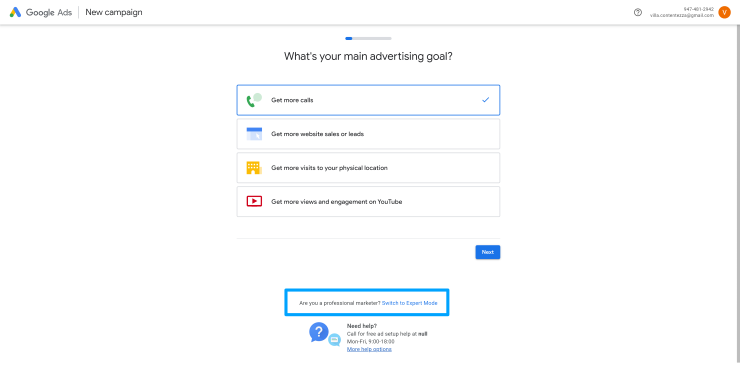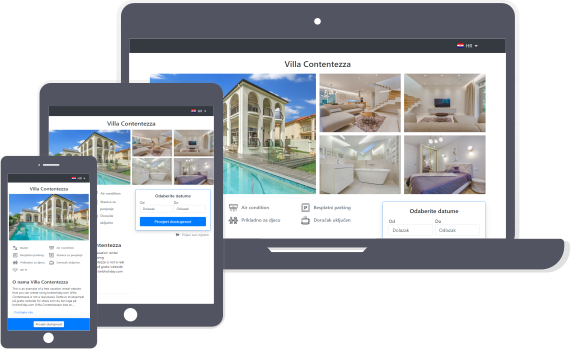 Create Your Own Vacation Rental Website for Free
Booking Calendar
Multiple Languages
Guest inquiries
It's FREE!
4. Choose Campaign Objective
As a campaign objective choose leads.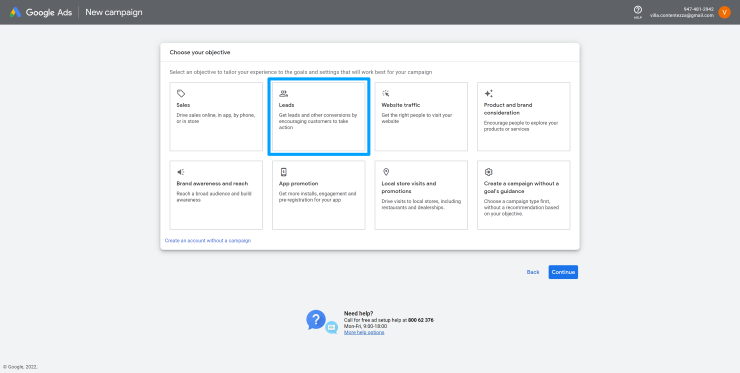 5. Choose Campaign Type
When asked about campaign type, choose 'Search'.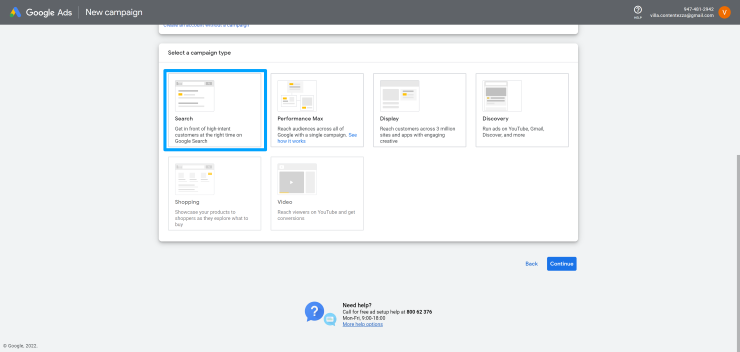 6. Set up Conversion Tracking
In the next step, to set up conversion tracking, click on 'Create conversion action'.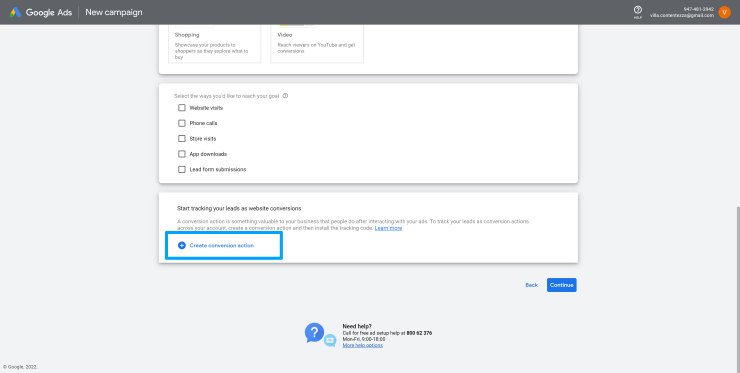 A conversion action will be created. Installation options are then sent to your Gmail address, and you can also find them by clicking 'Installation options'.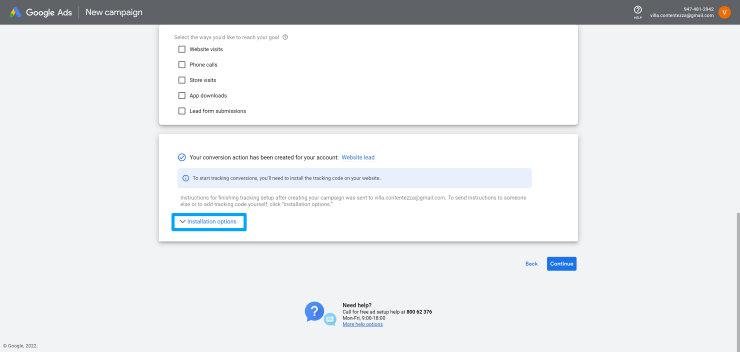 Choose 'Install tracking code yourself'.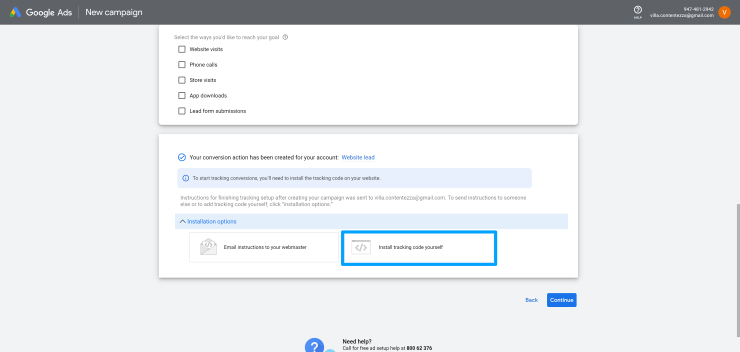 There are two tracking tags you need to paste into the source code of your website. With BnB Holiday you can do this very simply by copying the two tags and pasting them into the relevant fields in the 'Website' module.
First copy the two tags. They are marked with a yellow marker in the image below.
The first tag is the global site tag. Copy the code between the two apostrophes. It should have the format AW-10961720773. Note: your tags will have different combinations of letters and numbers.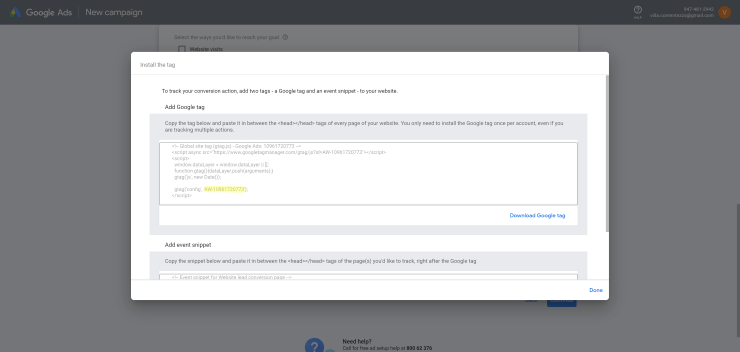 The second tag is the event snippet. It consists of a random alphanumeric code in the format UciECMPtjNMDEMWr-uoo. Copy the code between the backslash and the apostrophe. If you find it difficult to copy the tags directly off the page, download them first by clicking 'Download Google Tag', then open the downloaded file and copy the tag.
Now it is time to add the two tags to your vacation rental website management system. If you are not sure how to do this, contact support or read their FAQ page. If you are a BnB Holiday user, simply login to your account and go to 'Website'. Then, click on the 'Website' drop-down menu in the upper left corner and choose 'Google Ads'. Paste the two tags into their respective fields and click 'Save'. Your tracking code is now set up and can trigger conversions.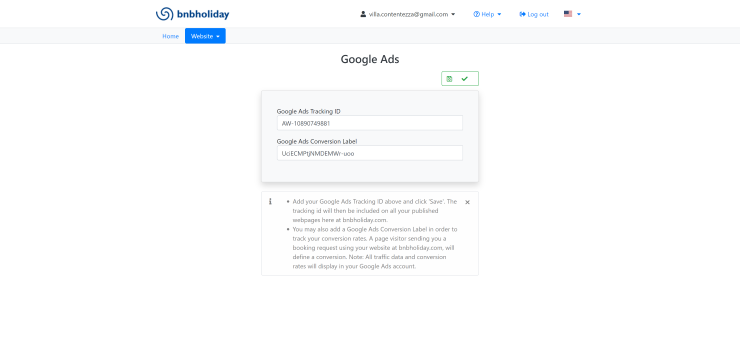 Now that your tracking code is installed correctly, you will be able to track when somebody converts on your website, meaning when they send you a booking request. This is useful to track when you want to optimize your ad performance. You can continue setting up your Google Ads campaign. Just click the 'Continue' button.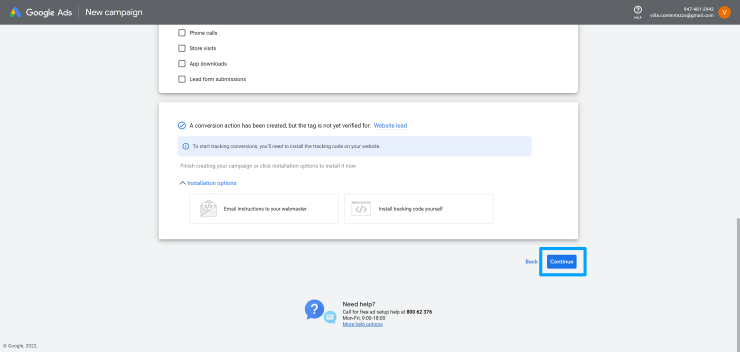 You will now be asked to select whether you want your ads to be shown to Google search partners and display network. Keep both search network partners and display network turned off for now. Once your campaign is up and running and you are satisfied with the performance, you can consider turning them on to increase your traffic.
You must also choose a name for your campaign at this step. The name of your property or business is probably a good campaign name to choose. Especially if you want to run separate campaigns for several properties.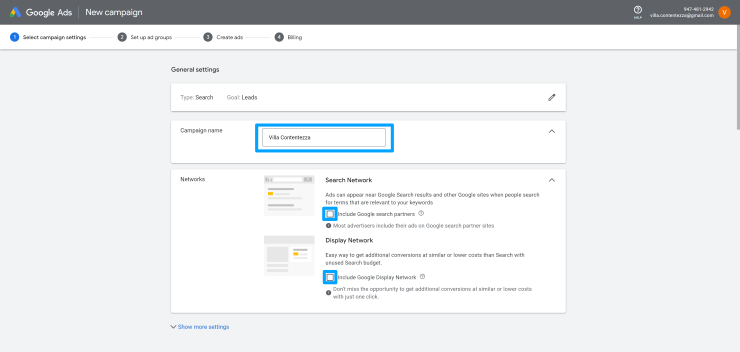 Select a target location. If, for instance, you want to show your ads to anybody from the UK searching for your keywords, choose the United Kingdom as your target location. You can also narrow it down to only people from England or only people from London searching for your keywords.
Also select the language your customers speak.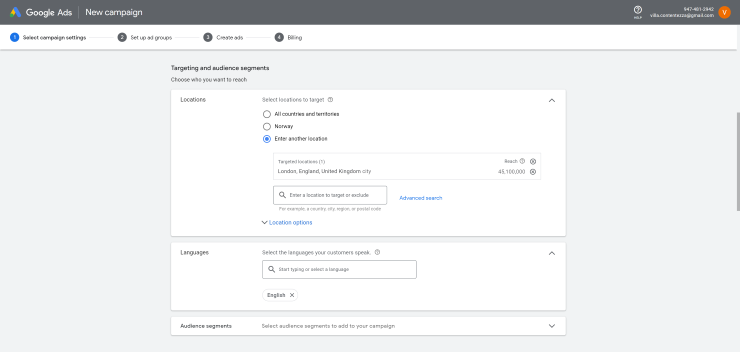 Set a daily budget for your campaign. This is the amount of money you are willing to spend per day to display your ads in front of potential customers searching for your keywords. Focus on conversions and let the 'Maximize conversions' setting stay on for now. This setting lets Google decide how to spend the budget in order to get as many conversions as possible and is the best setting during the learning phase of the campaign.
Later, when the conversions start ticking in, you should optimize your campaign by introducing a target cost per action. This is the average amount you are willing to spend in order to obtain one conversion (one booking request from your website).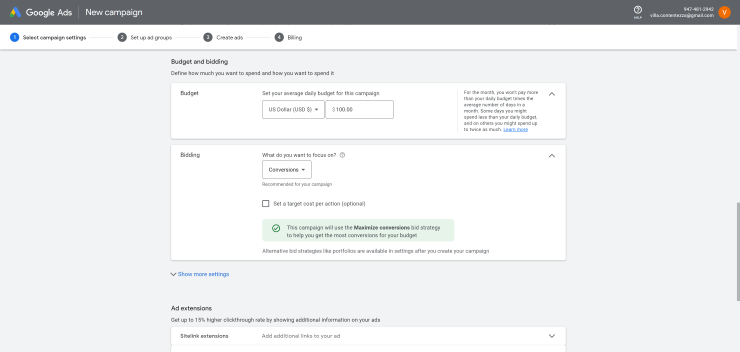 You can also add links to additional sites on your website, callouts that showcase your most important features or a phone number if you want to allow the searcher to call you instead of visiting your site.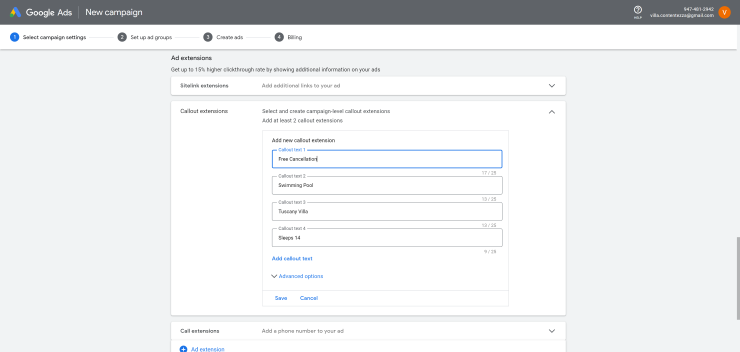 When done, click 'Save and Continue'.
Ad groups are used to organize campaigns in different themes. If for instance you are running both a B&B and a camping site you could organize your campaign in two ad groups, one focused on people searching for a B&B and one targeting campers. In the case of one property you are advertising for, you only need one ad group and the name is not important.
What is most important, however, is choosing the right keywords in this step. Remember, keywords determine who gets to see your ads. Only people searching for the keywords you enter in this step can see them. Make sure your keywords describe your property type, location and what you have to offer, and that they are something a person would search for. For instance 'Villa in Tuscany for rent' or 'Tuscany holiday home for rent with swimming pool". Use the Google Keyword Planner Google Keyword Planner tool to find keywords with the right search intent and enough search volume.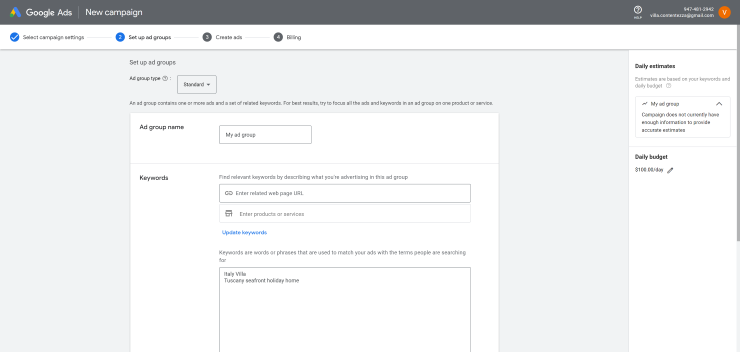 Now it's time to write your ad. Here, you must include the URL of your website and write several headlines and descriptions. Write as many as you can think of, so that Google has enough material to choose from when optimizing your performance, and tailoring the ad to a specific searcher.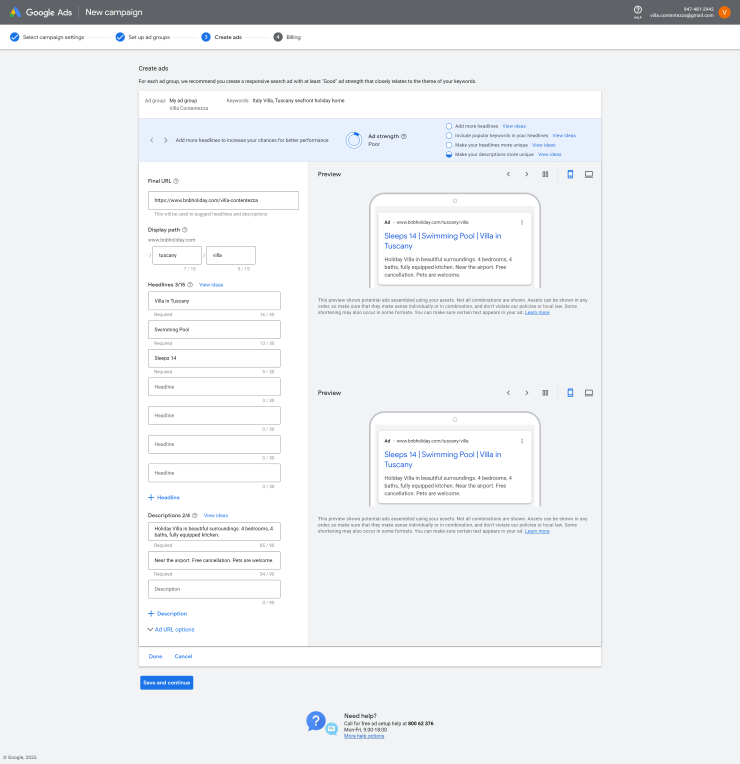 In the last step you add your credit card information, click 'Submit', and your campaign is ready to run.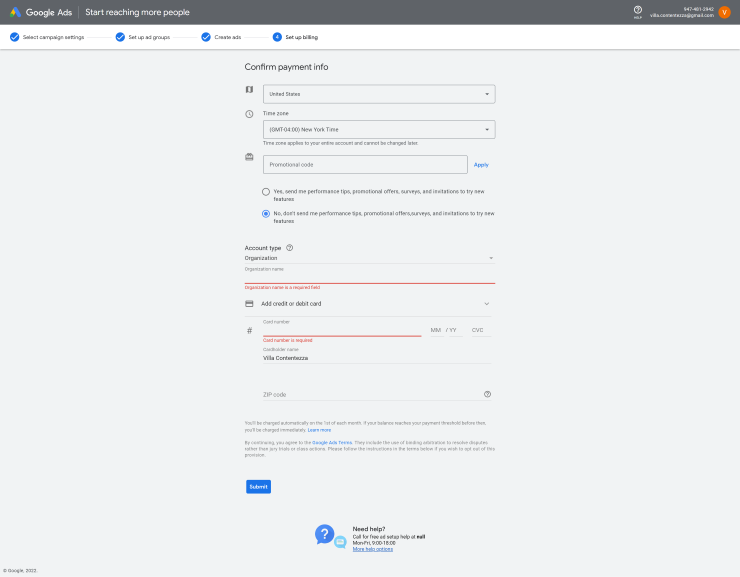 When you have received the first conversions you should check and optimize your campaign, see the section below.
Good luck!
7. Optimize Your Campaign
Next to choosing the right keywords, optimizing your campaign is the most important ingredient in a profitable Google Ads campaign.
Once your conversions start ticking in, and you see how much a conversion is likely to cost you, you should switch your campaign targeting from 'Maximize conversions' and set a 'target cost per action'. This target puts a maximum limit to how much you are willing to pay for a conversion, i.e. a new booking request from a potential guest. A target cost per action should be set in such a way as to allow you to get enough traffic, but not pay any more than you have to in order to fill up your booking calendar.
You should also follow up your performance and adjust your ad copy and keywords to optimize your campaign even further. Keywords and ads that are performing well should be given a larger portion of your budget, while keywords and ads that are underperforming should be disabled or modified. Always have several different ads running so you are always optimizing your performance.
Good luck with your rental business!